Bible Class and Sunday School at 9:30 a.m., Divine Service at 10:30 a.m.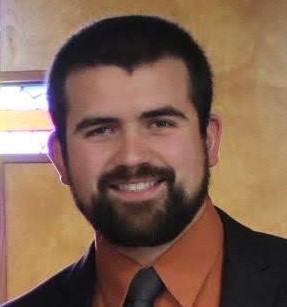 Pastor Naumann was born the son of a Pastor and a Christian day school teacher. Naturally, this led him to desire to serve in the public ministry until his teenage years when he adamantly decided that the ministry was not the path for him. The Lord led him back to the public ministry right before college began. Pastor Naumann was born in Alaska, spent most of his childhood in Wisconsin, and had a few summers in Eastern Washington before moving out on his own. Pastor Naumann met his wife-to-be in high-school, though neither of them knew it at the time. Later on in college they dated and married. They have three wonderful children. Pastor Naumann attended Immanuel Lutheran Seminary in Eau Claire, WI from 2016-2019 and upon graduation was called by Resurrection Lutheran Church in Corpus Christi, TX.
Before being called into in the public ministry Pastor Naumann enjoyed being employed through college and seminary as a warehouse worker at Menards, a Driver's Education Instructor, a Physical Education Assistant at an elementary school, a Special Education Assistant at the same school, and a Community Service Officer for the local Police Force. Currently Pastor Naumann enjoys being an outdoorsman and loves to fish, hunt, hike, camp, and garden. One of his favorite parts of the ministry is meeting with saints who are both homebound and homeward bound. Their perspective and faith are marvelous gifts to behold. Second only to that, he enjoys teaching the word of God in individual or small group Bible studies to those who are interested in what the Bible teaches. Pastor Naumann also sends out a weekly devotion on Saturday to help prepare for worship on Sunday. Send him a message to be included on this weekly devotion.