Covid-19 Response:

 

We praise God that we have resumed regular worship services. In order to continue to protect the health of our members we are implementing the following policies in accordance with Governor Abbott's recommendations for churches.

We are encouraging everyone to space themselves out in church.

We are encouraging everyone to bring/use whatever face coverings or other preventative measures you are comfortable with.

Bible class will be conducted in the sanctuary, and we ask that you simply sit where you are planning on sitting for the service.

We will not be having snacks and coffee either before or after the service.

Pastor will not be shaking hands after the service.

Recorded church services can be found on the church's YouTube page. 

Pastor Naumann is still available through phone, email, or visit for any spiritual need.
Bible Class and Sunday School at 9:30 a.m., Divine Service at 10:30 a.m.
Jesus said to her, "I am the resurrection and the life. He who believes in Me, though he may die, he shall live. And whoever lives and believes in Me shall never die. Do you believe this?" (John 11:24-25)
A church which exists to proclaim, to preserve, and to spread the saving Gospel of Christ crucified for sinners.
A church which values faithfulness to the Word above any seeming organizational advantage.
A church which has but one Master – Christ – and bows to no human authority or tradition in matters of faith.
A church which gives priority to Christian education.
A church which respects your privacy in giving.
A church which refuses to be a political pressure group.
A church which motivates people to function in matters of social concern as individuals, according to their own Christian judgment.
A church which seeks people in order to serve them.
We invite you to join us any Sunday for worship!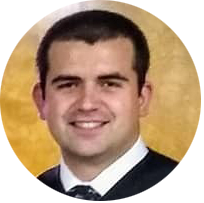 Pastor Naumann attended Immanuel Lutheran College in Eau Claire, WI, graduating from Immanuel Lutheran Seminary in 2019. He received and accepted the divine call to serve as Pastor at Resurrection Lutheran Church in Corpus Christi, TX in 2019.

Our Synod
​Resurrection is a member of the Church of the Lutheran Confession (CLC). The CLC, organized in 1960, desires to be what its name implies, namely a Lutheran Church which sets forth the Bible as the inspired and inerrant Word of God. It is a church that accepts and confesses the confessions of the Lutheran church drawn from the Bible and recorded in the Book of Concord of 1580 without reservation or qualification. As an evangelical body it is committed to proclaiming the Gospel of the Lord Jesus Christ. To that end it maintains its own highschool, College, and Seminary. Immanuel Lutheran College is located in Eau Claire, Wisconsin.